Artspace111 Texas Juried Exhibition
:
Group Exhibition
Past exhibition
Artspace111 is excited to present the 2020 Texas Juried Exhibition! Juried by Kristen Gaylord, Assistant Curator of Photographs at the Amon Carter Museum of American Art, the show features artwork by 67 Texas Artists. A Virtual Tour of the exhibition is now available. All artwork can be purchased online directly from our website. The exhibition will be on display from June 27th - July 25th. To view the exhibition in person, please email to make an appointment.
Artspace from Make Something Beautiful on Vimeo.
Exhibited Artists Include:

Britteny Akines | Jorge Alegría | Chris Alexander | Barbara Attwell | Leticia Bajuyo | Ariel Bowman | Bob Bruu | Justin Burns | Hyunsook Byun | Natalie Campbell | Danville Chadbourne | Michael Darough | David Dennis | Jake Dockins | Sheena Dorton | A. Eilene Carver | Martha Elena | Jasmin Flores | Mckee Frazior | Cristi Frye | Melissa Gámez-Herrera | Carra Garza | Stephanie Gerhart | Emily Gomez | Becca Gordon | Morgan Grasham | Eric Grasham | Sibylle Hagmann | Phil Harvey | James Helms | Darrin Hill | Betsy Horn | Shang-Yi Hua | Ernesto Ibanez | Cedric Ingram | Maya Janczykowska | Jimi Kabela | Ruth A. Keitz | Adam Knoche | Nancy Lamb | Robert Langham | Yuni Lee | Benjamine Lester | Mike Lopez | Shana Martin | Gabriel Martinez | Karl Melton | Tracey Meyer | Michael Mulvey | Philana Oliphant | Justin Penov | Alicia Philley | Fari Rahimi | Chad Rea | Alexander Revier | Charles Santora | Kirupa Sargunaraja | Karly Schlievert | Coleman Schoessow | Kevin Stanford | Pamela Summers | John Taylor | Paul Valadez | Juan Vallejo | William West | Austin Williams | David Wolske
A Note From The Juror
I agreed to jury Artspace111's Seventh Annual Juried Exhibition long before the COVID-19 pandemic. Jurying art virtually is always a slightly odd experience, and it was made even odder this year as I was already cut off from the world in so many more ways than usual. But what I found was solace and encouragement. The thousands of artworks I reviewed were smart, funny, skilled, and vulnerable. They dealt with contemporary issues and forged new aesthetic paths, referenced art history and current events, mastered traditional materials and invented new ones, and often came from deeply personal places. 
As is always the case, the painting category was particularly competitive, especially figurative painting. It's no small thing to try and find one's place in that grand history, yet my favorite paintings found ways to inject their work with the flavor of our contemporary moment. I was especially impressed with the quality of the sculptural and installation works, which are overrepresented in the final selection compared to the number submitted. They took chances and made statements and won me over with their bold, unapologetic presence. And, of course, as a photography curator I wanted to make sure to include a generous number of the best works on paper. These quieter, smaller works don't always get recognition in an environment like a juried exhibition where they're competing against large, colorful paintings and sculpture, but their subtlety should never be mistaken for lack of creativity—often their restraint is exact and hard-won.
Jurying always creates an idiosyncratic show, and, in the end, what's included this year is not the "best" 67 works, but the ones I liked the most, and the ones I felt best represented the wealth of Texas art I'd seen in the jurying process. A different juror might have picked a completely different set of works. But when I look at the gallery space I'm filled with hope, which can be in short supply these days. I'm reminded that often, when we don't know where to turn or what direction to go, we should look to artists to inspire and lead us.
Kristen Gaylord,

 
Assistant Curator of Photographs at the Amon Carter Museum of American Art
Award Winners
Top Prize
The top prize for the Seventh Annual Artspace111 Texas Juried Exhibition is a $2,000 cash award and the opportunity to participate in a separate solo or group exhibition at Artspace111 in 2020 - 2021. The top prize for the TJE is awarded to...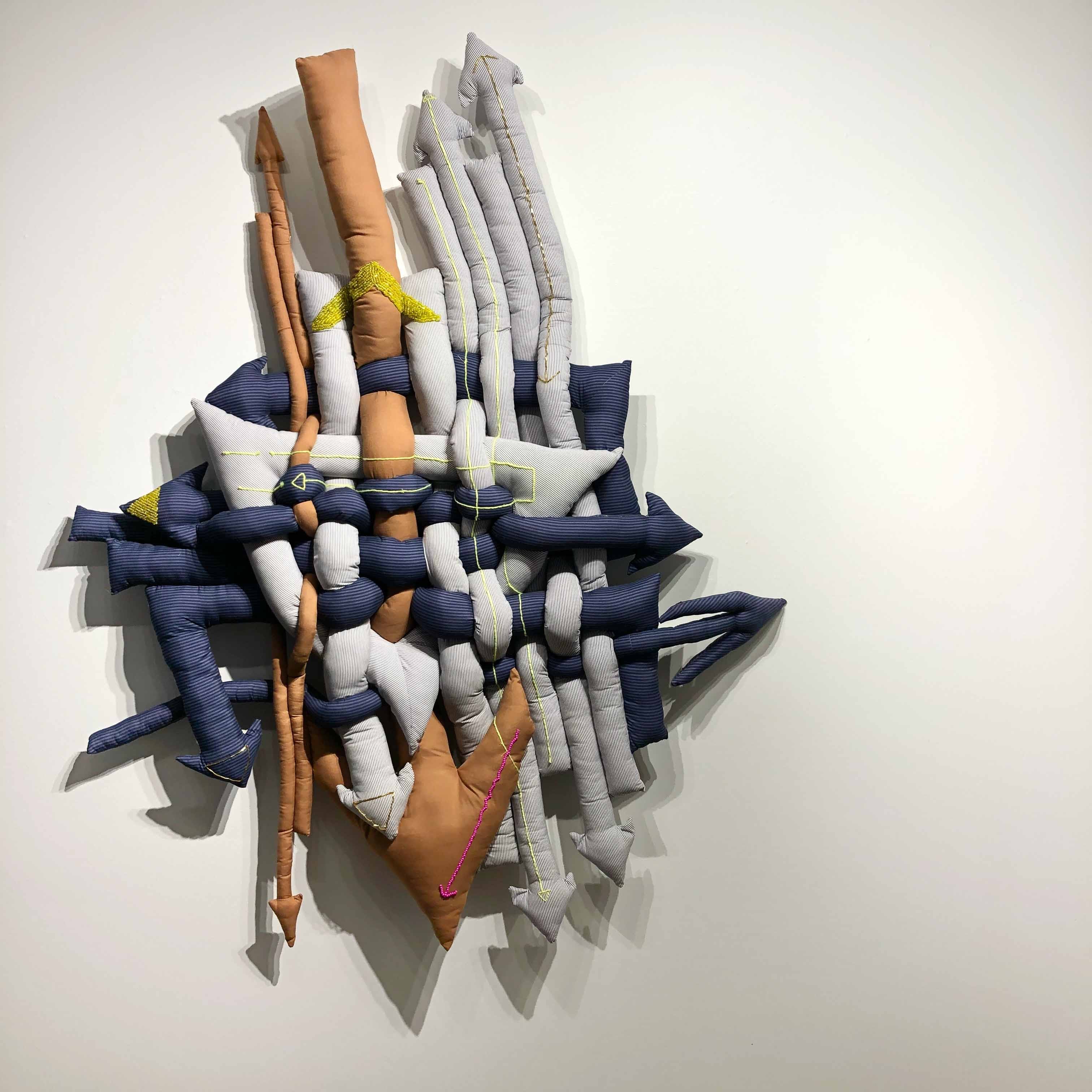 Martha Elena,

 
Blessed Little Goose
, 2020, bedsheets, acrylic yarn, beads, 52 x 47 x 7"
Juror Statement |

 
Blessed Little Goose
 was unassuming on my screen, an intriguing little lump of fabric and symbol. But I was delighted with what I saw in person. The tightly woven sections vie with each other to escape to freedom in any direction possible. And the work's construction (and my experience underestimating it) can all serve as a metaphor for the protagonist of the Charlotte Perkins Gilman story referenced by the title, a phrase that actually appears in the piece rendered into the symbolic language Wingdings 3.
Artist Statement | "Blessed Little Goose" is spelled out and designed using the Wingdings 3 font as a key. The phrase originates from one of my favorite short stories. I am interested in the infinite ways that I can use the font without allowing the viewer to understand it as a language but as a design. The context of my work is developing through soft sculpture and hope to explore it further.
Second Prize
The second prize artwork is awarded a $1,000 cash award. The second prize in 2020 is awarded to...
Morgan Grasham,

 
Odocoileus carnis
, 2018, Axis hide, cow hide, Polyfil, chain, 48 x 32 x 28 "
Juror Statement |

 
Grasham's work tears away the veil of romanticism that usually disguises the cognitive dissonance of humanity's relationship with wildlife. 
Odocoileus carnis 
confronts us with the tenderness, violence, and absurdity of our encounters with the animals we personify, hunt, and consume.
Artist Statement | As a child, I visited my family's cattle ranch, and entertained romantic notions of wilderness. During a residency in west Texas, I began working as a taxidermist, and I started asking questions about why people created and collected such animal objects. The fabrication of fauna is an expression of longing for proximity to and communion with wildlife. We use animal objects as ways of telling ourselves stories about our relationships to other species. But as the word longing suggests, our desires are never fulfilled, and the outcomes are complicated, unpredictable, and contradictory.
I create creatures as a visualization of the cognitive dissonance permeating contemporary representations of wildlife. The animals' bodies are vessels for our unfulfilled desire, made to serve us as allegorical forms in the stories we tell. The work considers the relationship between storytelling and environmental science in determining the unfolding future of ourselves and our biological others.
Honorable Mentions
Yuni Lee,

 
Dulce Periculum
, 2020, Mixed media on Canvas, 36 x 48 "
Juror Statement |

 
Lee's work is beautiful but complex, and shows off a technical ability for handling paint as well as a keen eye that surveys the world around us, translating remnants of our culture into artistic material.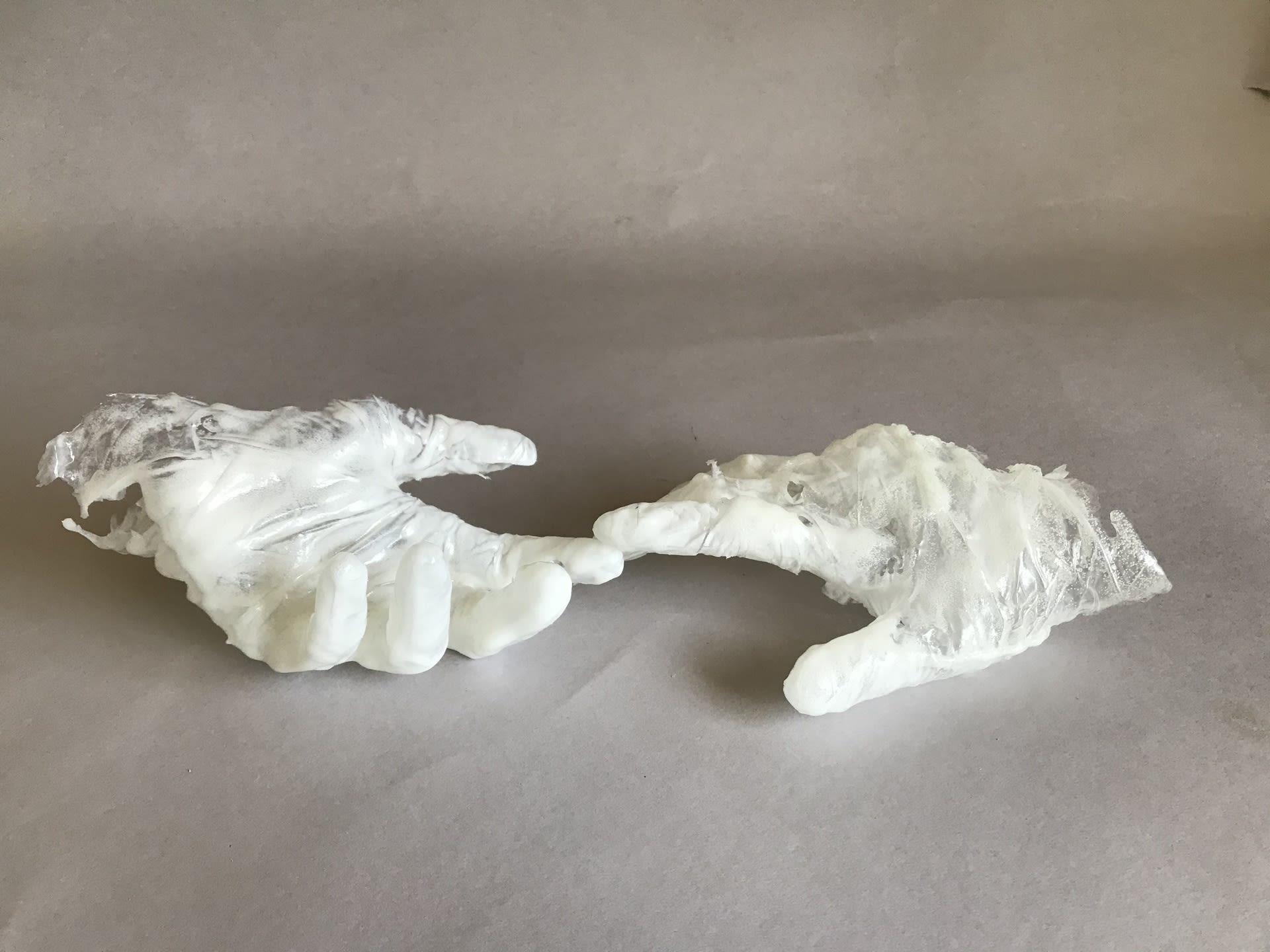 Shang-Yi Hua,

 
Untitled
, 2020, Resin, 3.5 x 13.5 x 6"
Juror Statement |

 
The frothy resin of 
Untitled
 disintegrates the farther it gets from human touch, a poignant encapsulation of what it feels like to live through the COVID-19 pandemic.
Philana Oliphant,

 
Swallow's Bone
, 2020, Charcoal, 21.5 x 18 "
Juror Statement |

 
Jurying art online means seeing the work in person is always a surprise, but I was floored by the exquisite rendering of 
Swallow's Bone, 
and the ability of this monochromatic charcoal work to hold its own in a gallery full of vibrant and large works.
Leticia Bajuyo,

 
Tighten Your Belt: Ranch
, 2019, Cast Iron, Styrofoam, artificial turf, steel, and adhesive, 29 x 27 x 27 "
Juror Statement |

 
Tighten Your Belt: Ranch
 is one of those works that stays with your brain long after you see it. It is whimsical yet poignant, familiar yet disturbing, revealing Bajuyo as a master of metaphor.
---

This year, submissions to the exhibition raised funds to provide 15,000 meals to Tarrant area residents through the Tarrant Area Food Bank.

All of the artists who submitted will also be represented in the TEXAS NOW Online Showcase. This online exhibition will be live for one month following the close of the Texas Juried exhibition. ArtspaceIII will post the link to the online showcase when the Texas Juried Exhibition closes on July 25.

Texas Juried Exhibition
June 27 - July 25
Masks mandatory inside the exhibition